Source: One Kind Design
Historically, many home builders have treated outdoor spaces as an afterthought, even in luxury homes. Even if they chose to focus on the outdoors, many firms put design considerations before practical usage. In 2020 we are now embracing formal outdoor spaces that turn your yard into a true extension of your home, with all of the amenities and design acumen that you'd expect from your kitchen, living room, or indoor rec rooms. Outdoor spaces are trending hotter than ever with creative ideas that are transforming how we design and live in homes. Let's take a closer look at the features to consider for making the most of your outdoor spaces.

Source: Thomas Sattler Homes
Multi-Slide Doors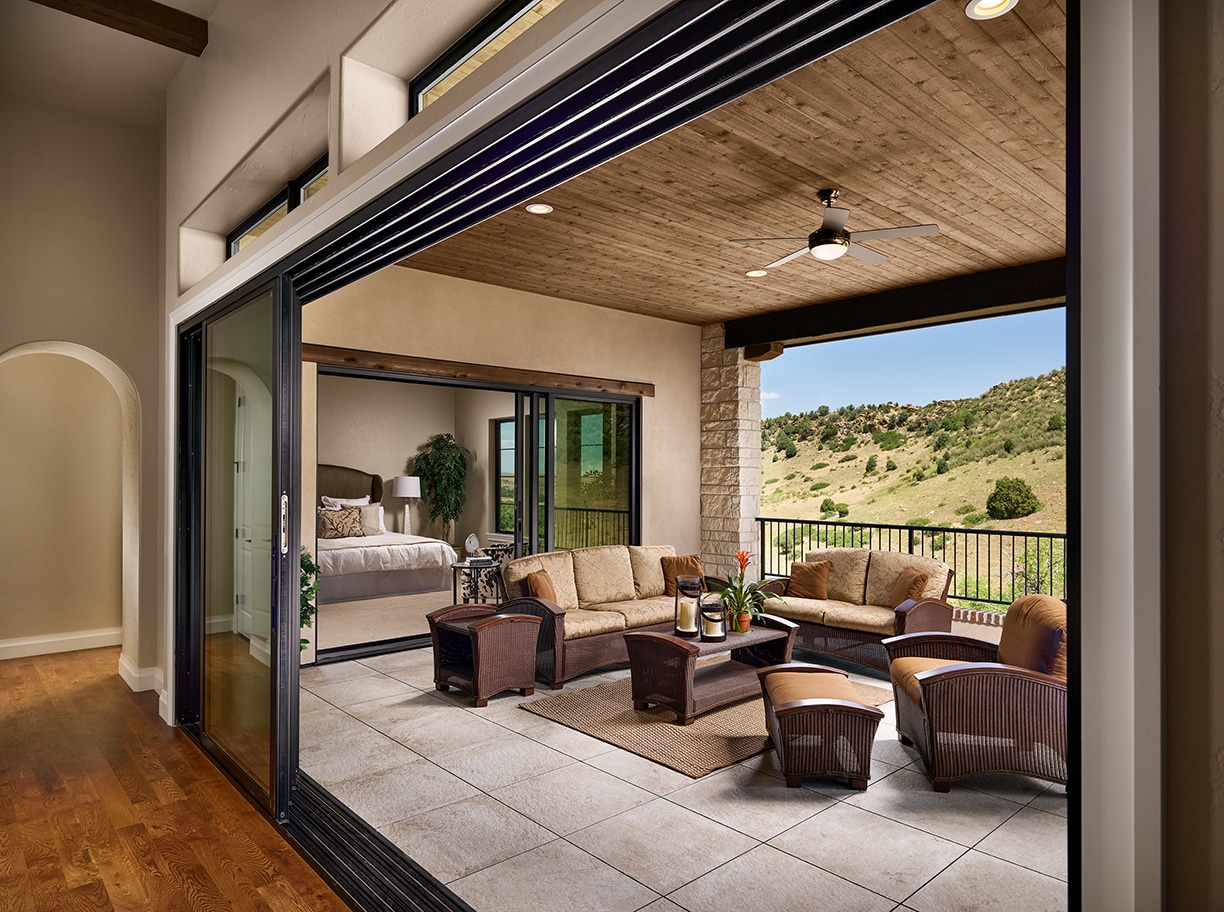 Source: Thomas Sattler Homes
Open up the home to fresh air and light and bring the best of indoor living outside. Most multi-slide doors come in 2-4 panels that can fold and stack on the left, right, or center meet. A dramatic feature for entertaining, while easy to operate and maintain.
Waterproof Deck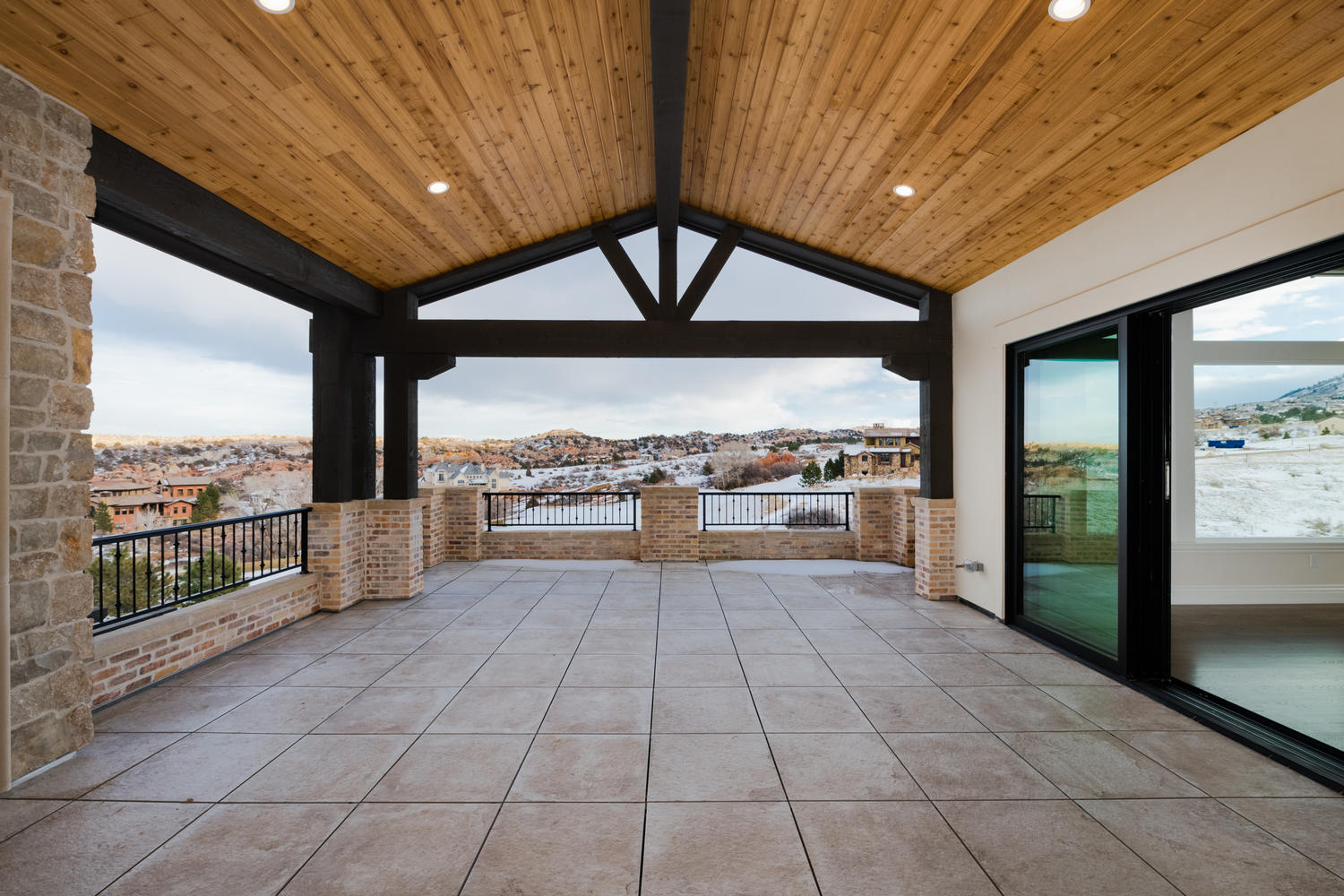 Source: Thomas Sattler Homes
Using large stone pavers instead of traditional wood decking material makes a bold statement. Water drains between the pavers down into a waterproof membrane that discretely empties through columns to the ground. Ideal for main level patios that rest above a walk out basement, creating a second covered patio space below that will also stay dry in weather, versus the annoying drips of a traditional deck.
Covered Patio with Stained Cedar Soffits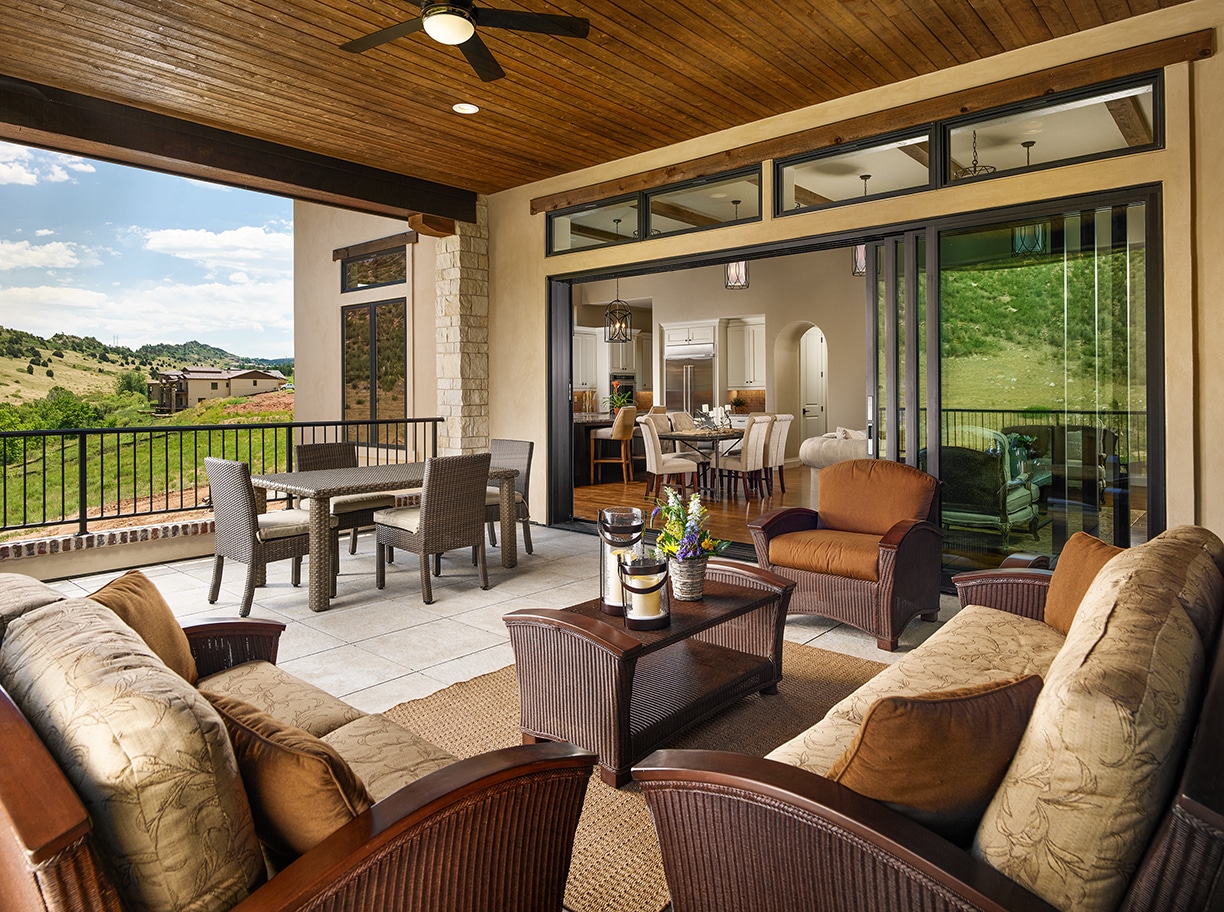 Source: Thomas Sattler Homes
This look has become more prominent recently, from remodel projects to new builds. Bold  stains showcase the rich color of the cedar above, often matching the exterior accents and other outdoor covered spaces to compliment interior finishes.
Patio Lighting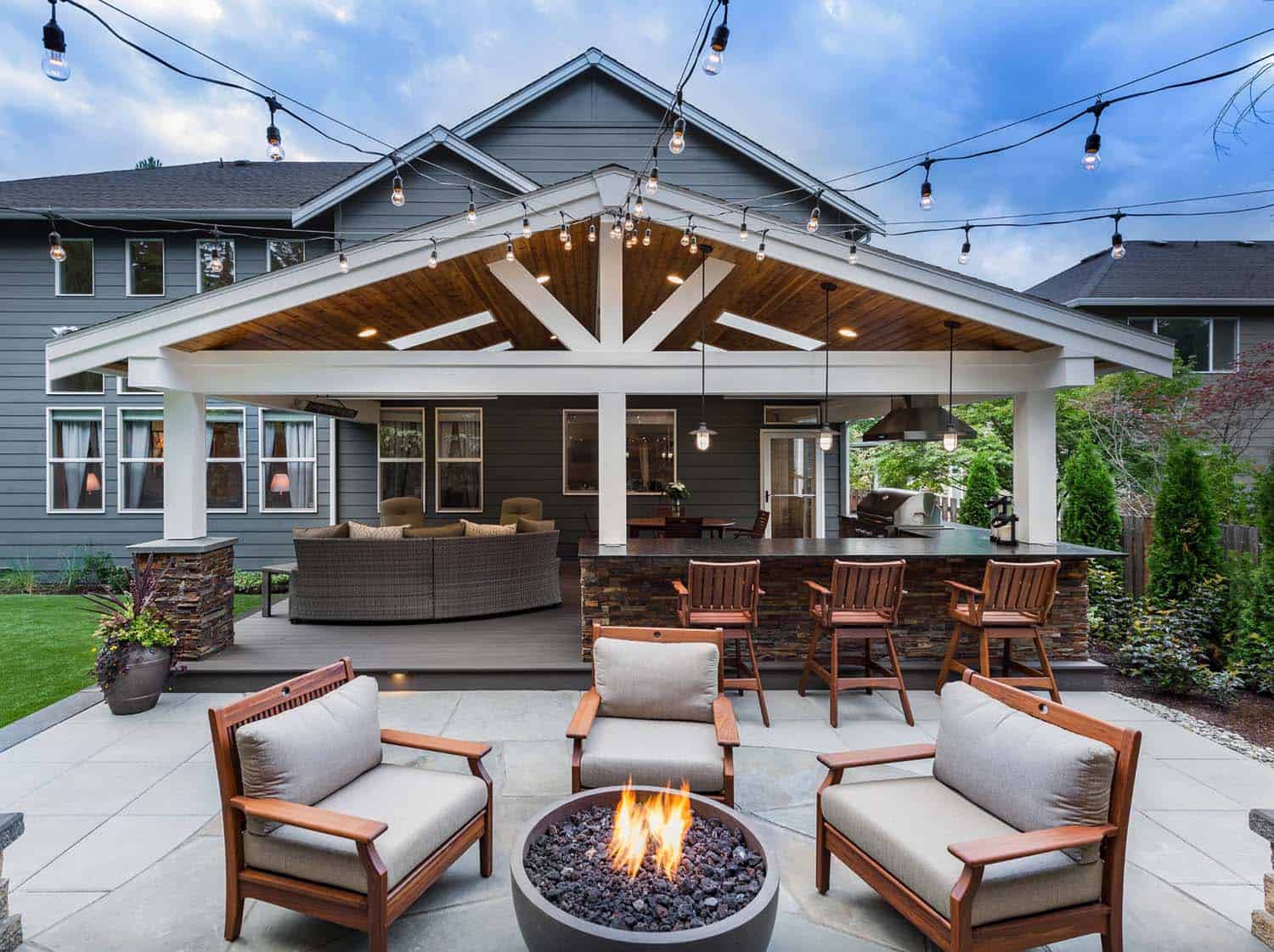 Source: One Kind Design
Gone are the days of back patios dimly lit by an exterior light or two. Patio lighting transforms even bland spaces by day into lively and enriched spaces at night. Choose from popular decorative bulb strands, recessed can lights, or a dramatic chandelier. For a more modern style, LED back-lighting is trending with color changing bulbs to set the tone for the right mood.
Decorative Flooring
Source: One Kind Design
Bringing in decorative flooring is a unique way to enhance outdoor spaces. The options are endless – spicing it up with tiles in bold colors and patterns, to durable colored concrete, stone or concrete pavers, or even treated wood with ornate designs.
Built-In Benches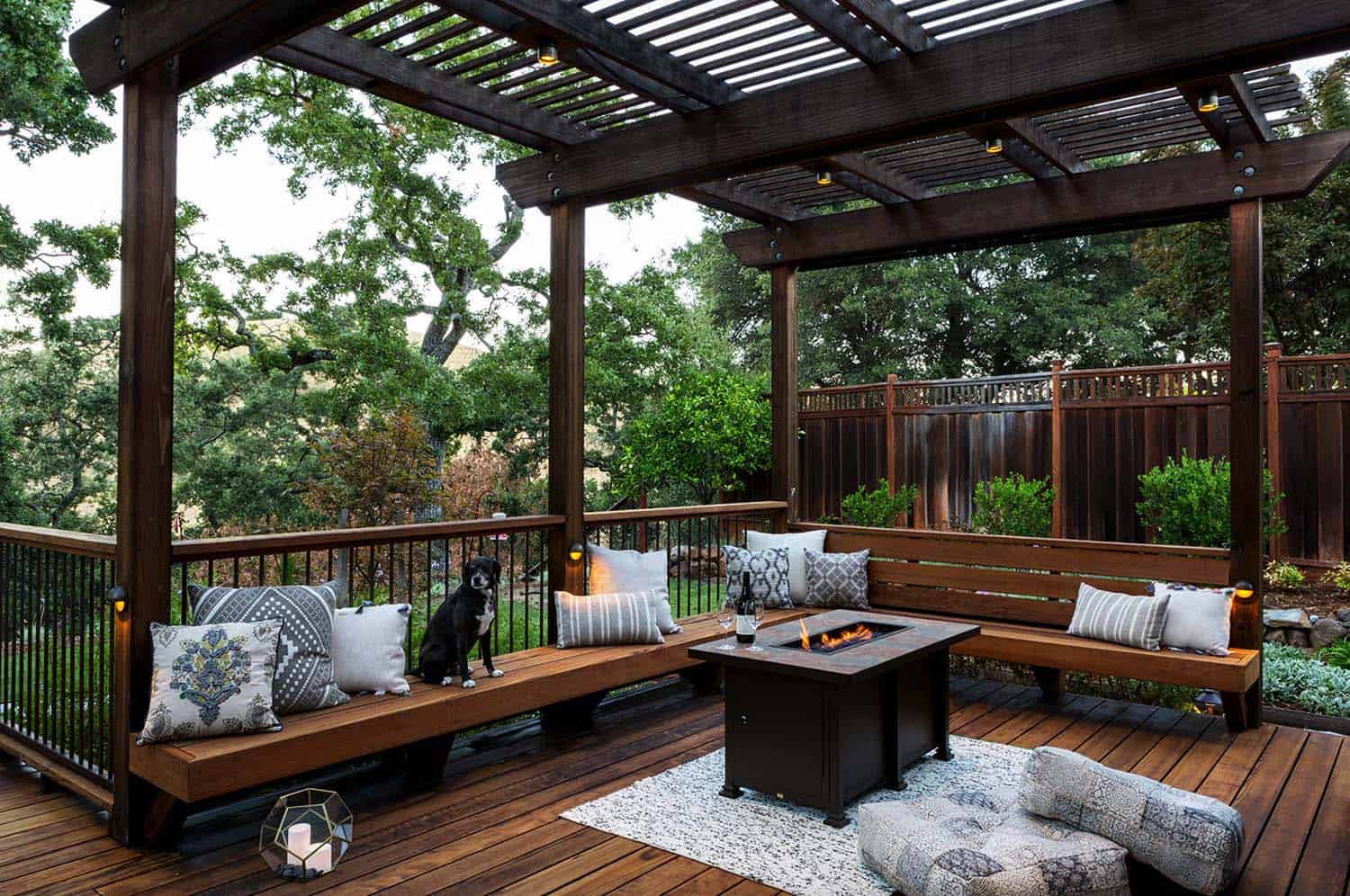 Source: House Beautiful
A thoughtful design that is simple and accommodating to guests and furry friends alike. Benches are designed into the covered patio area, often constructed of treated and stained wood for a rich yet minimal look. Or compliment other colors in your selections with comfy bench cushions resting on top of other materials such as stone, brick or even tile surrounds.
Private Front Courtyard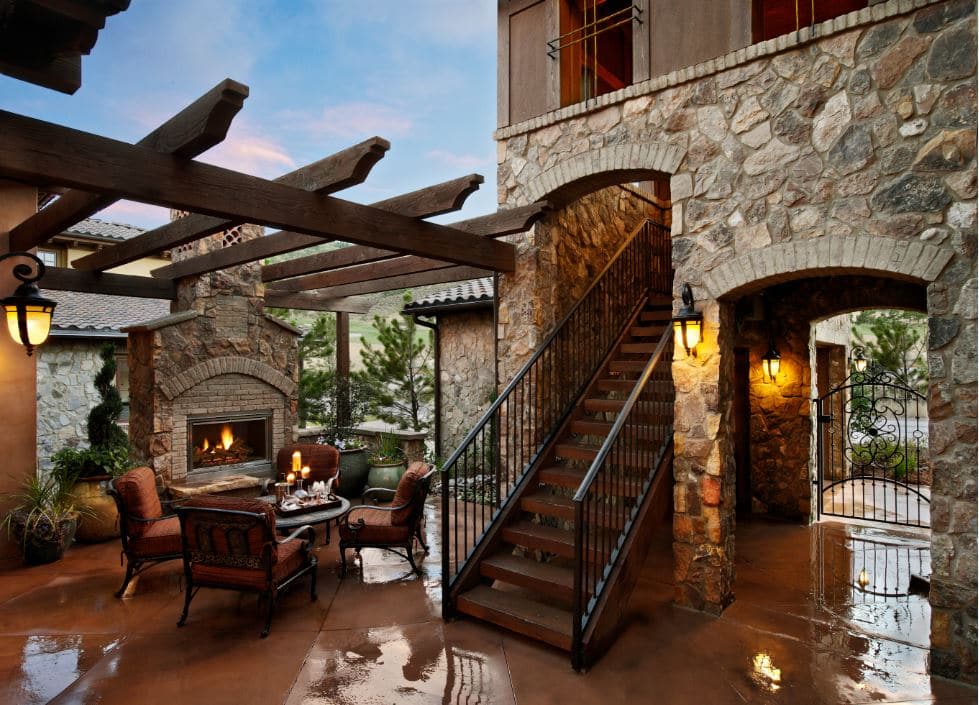 Source: Thomas Sattler Homes
Usually outdoor living is associated with the rear exterior of the home. However, front courtyards are trending more as homeowners look for additional retreats and to optimize views. Often designed for privacy to extend and enclose the front porch, making for a dramatic entry to the front door. This feature is also used as a tranquil extension of a home office, a comfortable setting to work or meet in.
Dining Areas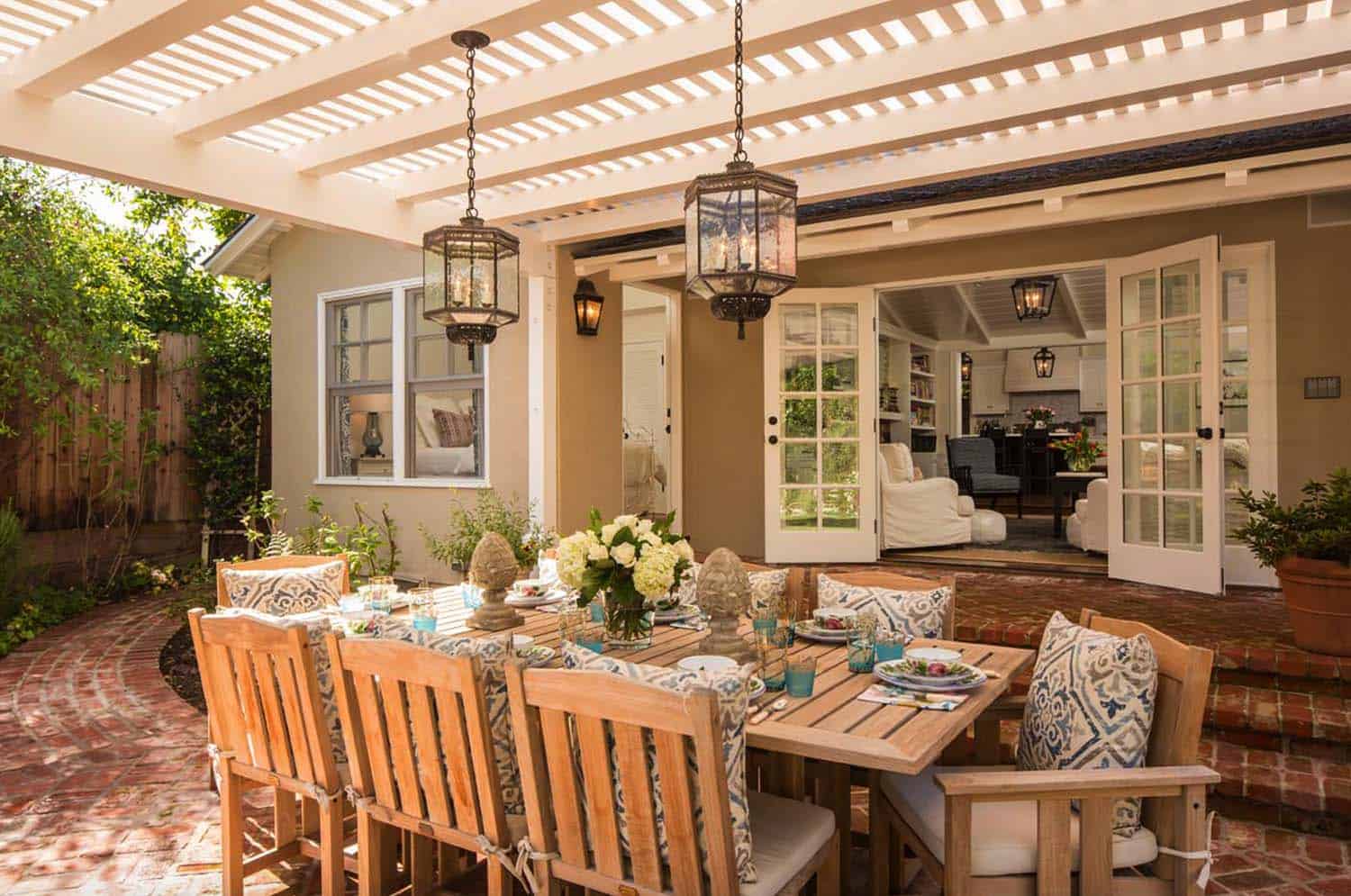 Source: One Kind Design
Essential to outdoor living, dining areas have become the centerpiece of entertaining. Far more than just a patio furniture set, these spaces are made for enjoying time together with family and friends with all the amenities you would expect indoors.
Outdoor Fireplace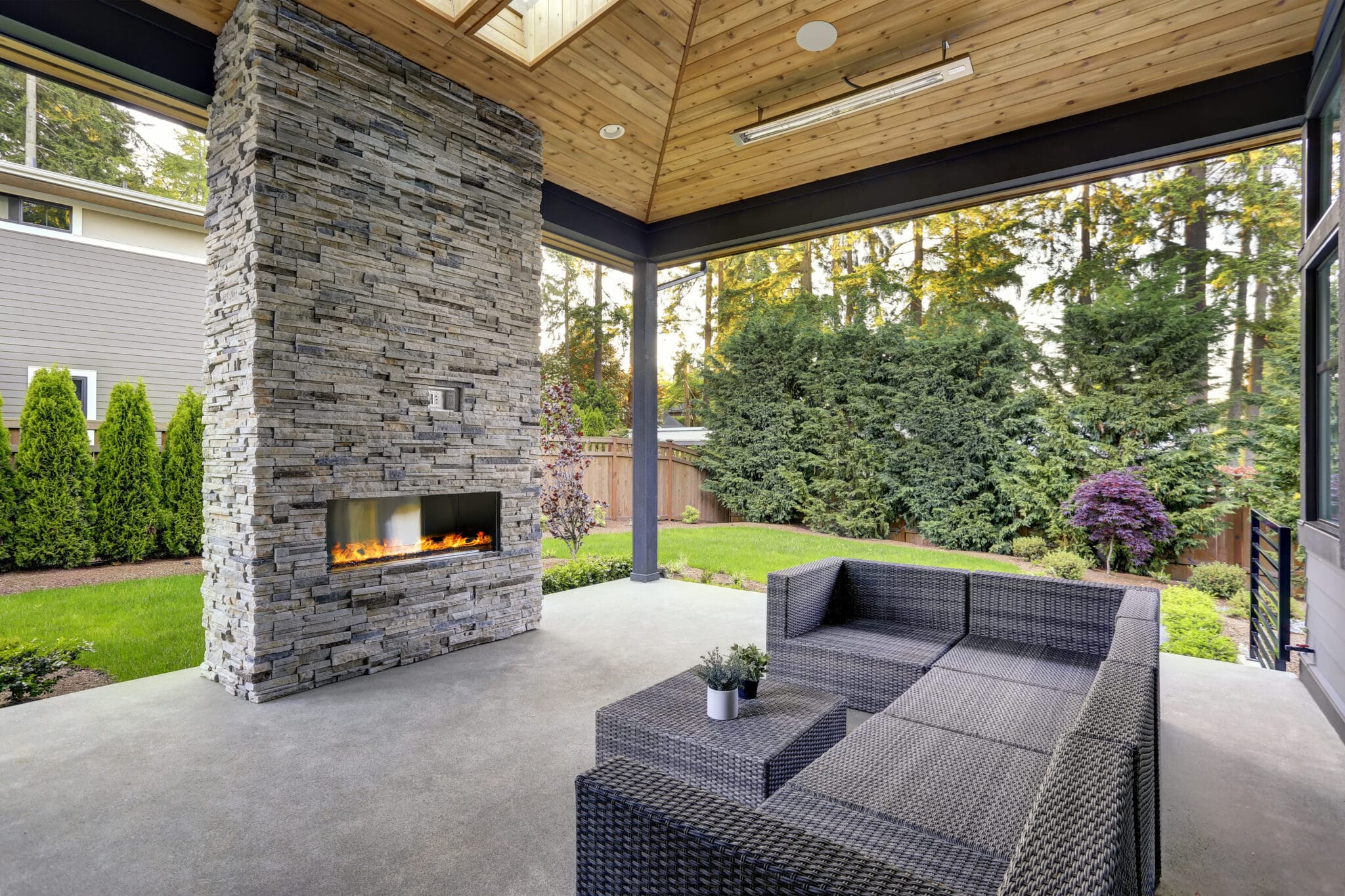 Source: My Move
Find comfort and solace near warmth and soothing light of the fire. Outdoor fireplaces provide heat and a relaxing ambiance with ease, if you prefer gas lit. Or the more rustic option, wood burning for those that enjoy the smell and cackle of a fresh bundle on the flame.
Fire Pit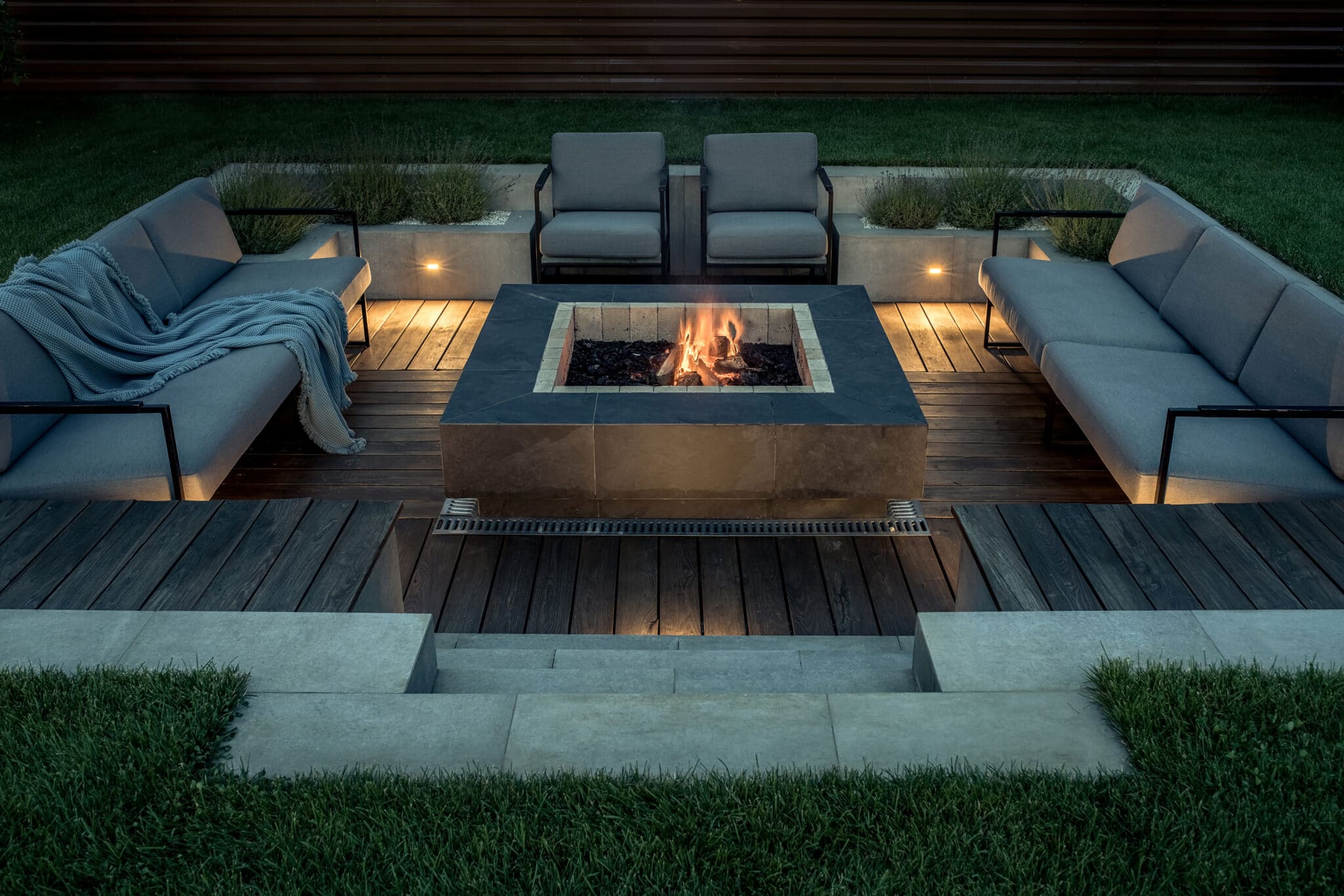 Source: My Move
Usually off the rear patio or tucked away in it's own enclave of the back yard, fire pits have been bringing people together for centuries. This timeless feature is available in many styles and can be minimal or a dramatic focal point integrated into the design and/or landscape architecture. Most fire pits are gas powered, making for low to no maintenance. Think built-in for stronger resale.
Built-In BBQ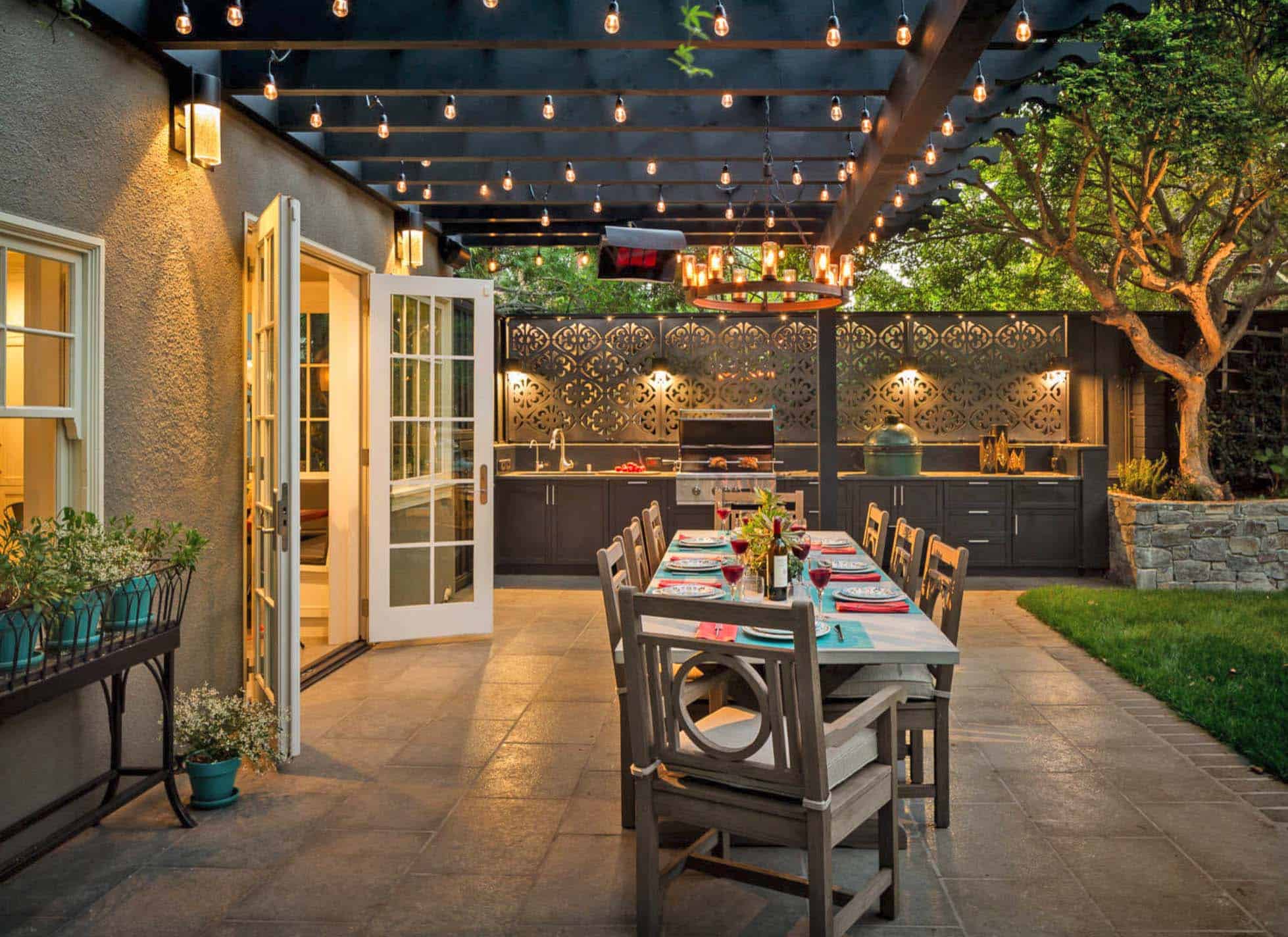 Source: One Kind Design
More of a standard feature these days, especially in the luxury market. Avoids the hassle of exchanging or refilling propane tanks with a gas line plumbed in for easy operation and maintenance. Often built into the rear exterior materials – stone, brick, decorative concrete, stainless steel or quartz counters and cabinets. Some location's code may require a vented hood.
Clay Fire Oven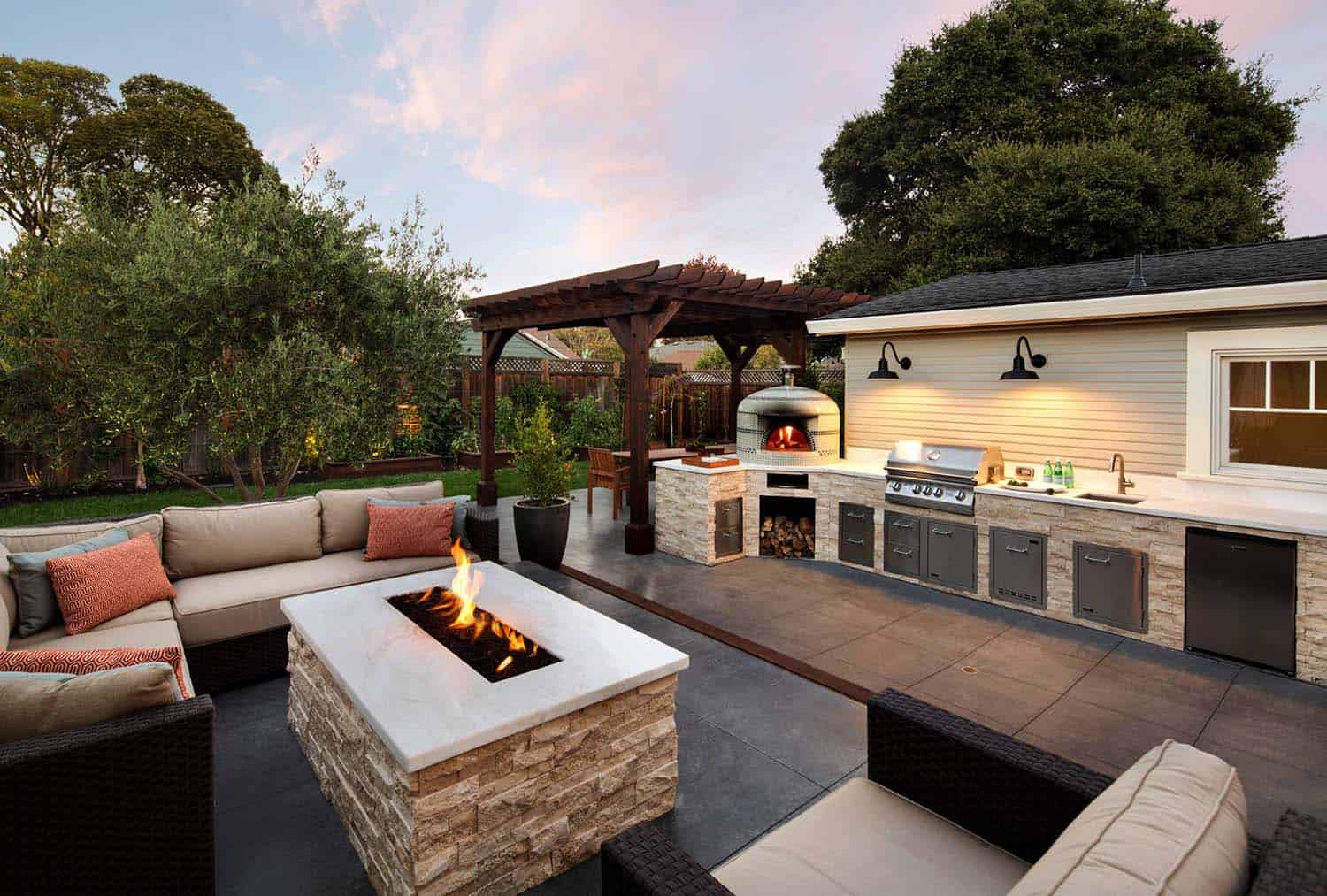 Source: One Kind Design
For the foodies and eccentric hosts alike, this rustic feature inspires. Envision the wafting smell of tandoori chicken and the perfect texture of crisp mozzarella on a golden baked crust. Delight your guests and their palates with this exotic element in your outdoor kitchen.
Outdoor Kitchen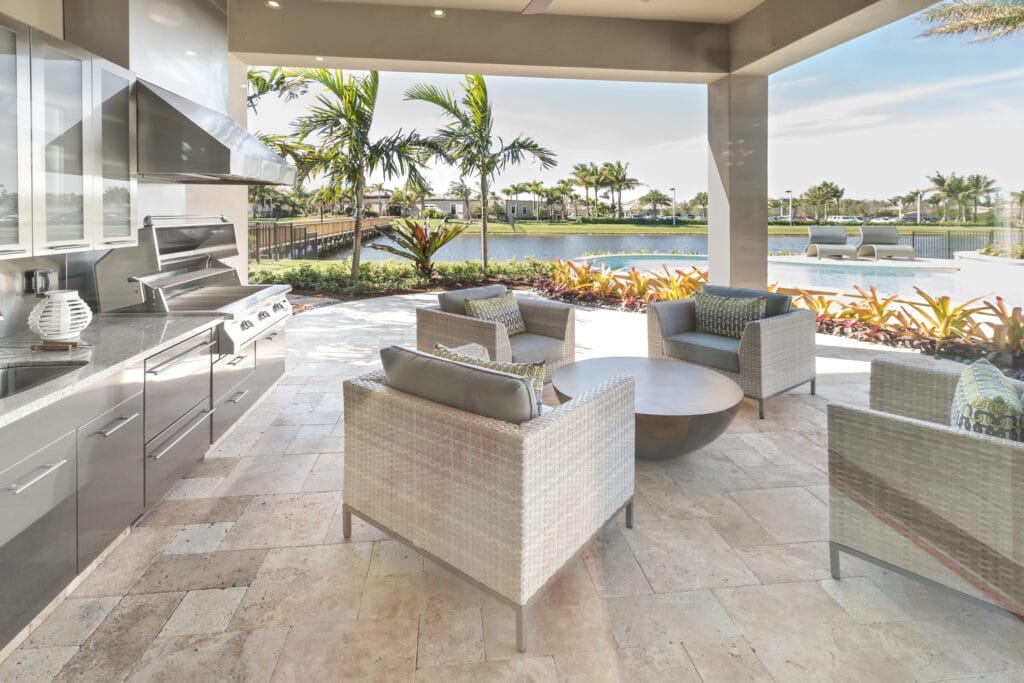 Source: My Move
For those who enjoy outdoor living, an outdoor kitchen becomes essential. Offering the convenience of preparing an cooking meals near the action at the dining area, this feature keeps people together while entertaining and avoids trips back and forth from the interior kitchen. Often loaded with the full array of appliances, sink, cook-top, etc you would expect.
Outdoor Bar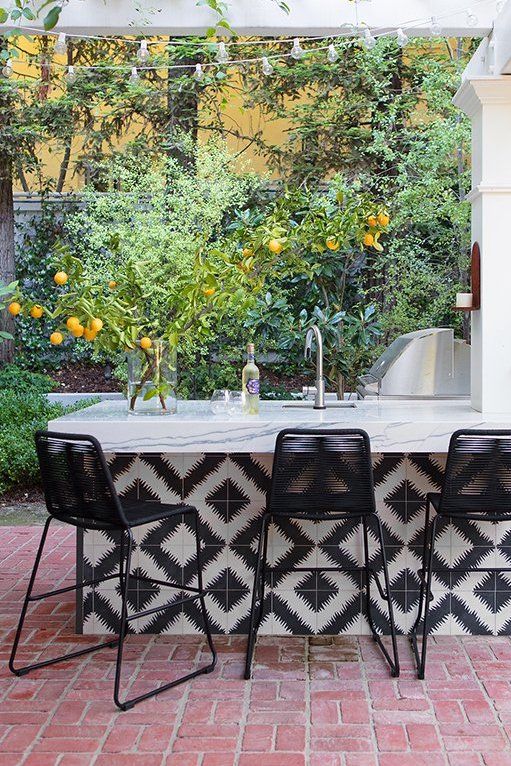 Source: House Beautiful
Make every weekend feel like spring break with this lively feature. Perfect for entertaining guests who prefer fun in the sun. Most set ups entail counter space with seating and a sink, beverage cooler, kegs, storage cabinets and perhaps a dishwasher and ice-maker. Ideal for poolside parties or enjoy while watching the game under the covered patio, and outdoor bar never disappoints.
Heaters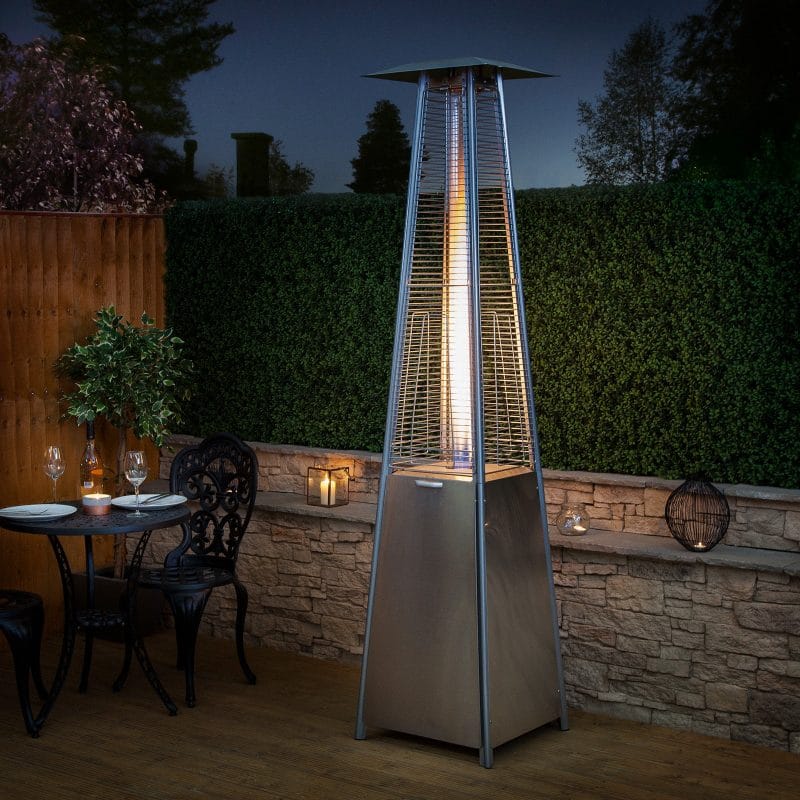 Source: Halo Lighting
Enjoy your outdoor living space year-round and stay cozy with outdoor heaters. Available in a variety of options to match your design and lifestyle, from free standing gas powered to discreet overhead flush-mounted heaters. Even in the cool of fall and the frost of winter, your outdoor enclave will be warm and inviting.
Mounted TVs & Sound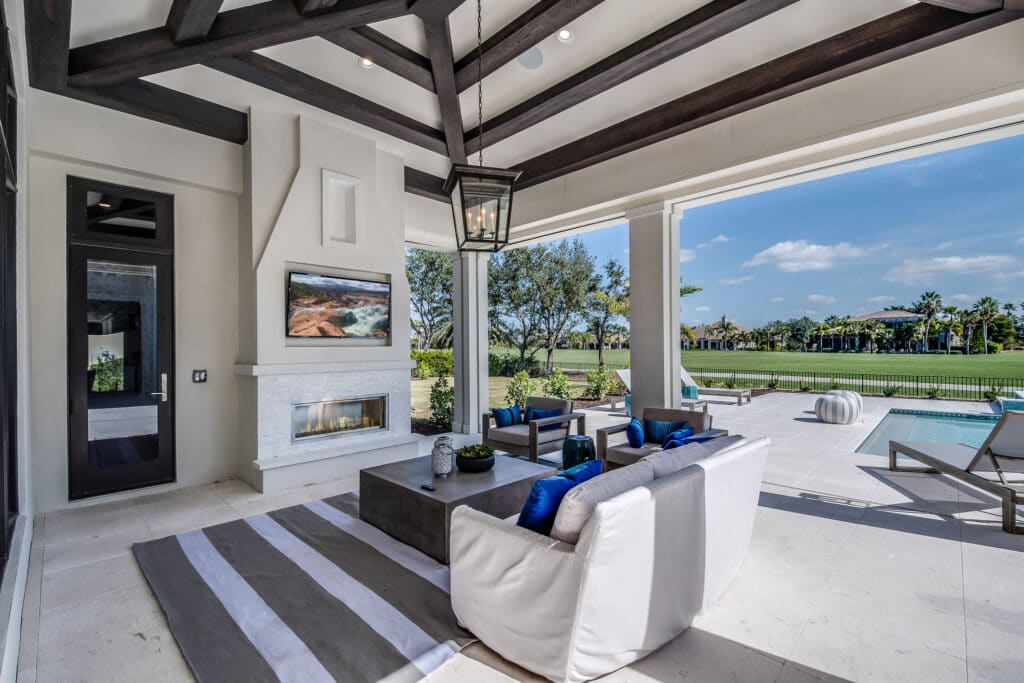 Source: House Beautiful
This trend has been another example of bringing resort style amenities to the home. Transform your covered patio into a vibrant space. Just like a restaurant patio features mounted TVs with sound to entertain clusters of guests, so can you, in an even more intimate setting. Or opt for a soothing lounge to your favorite playlist with built in speakers.
Pool Courtyard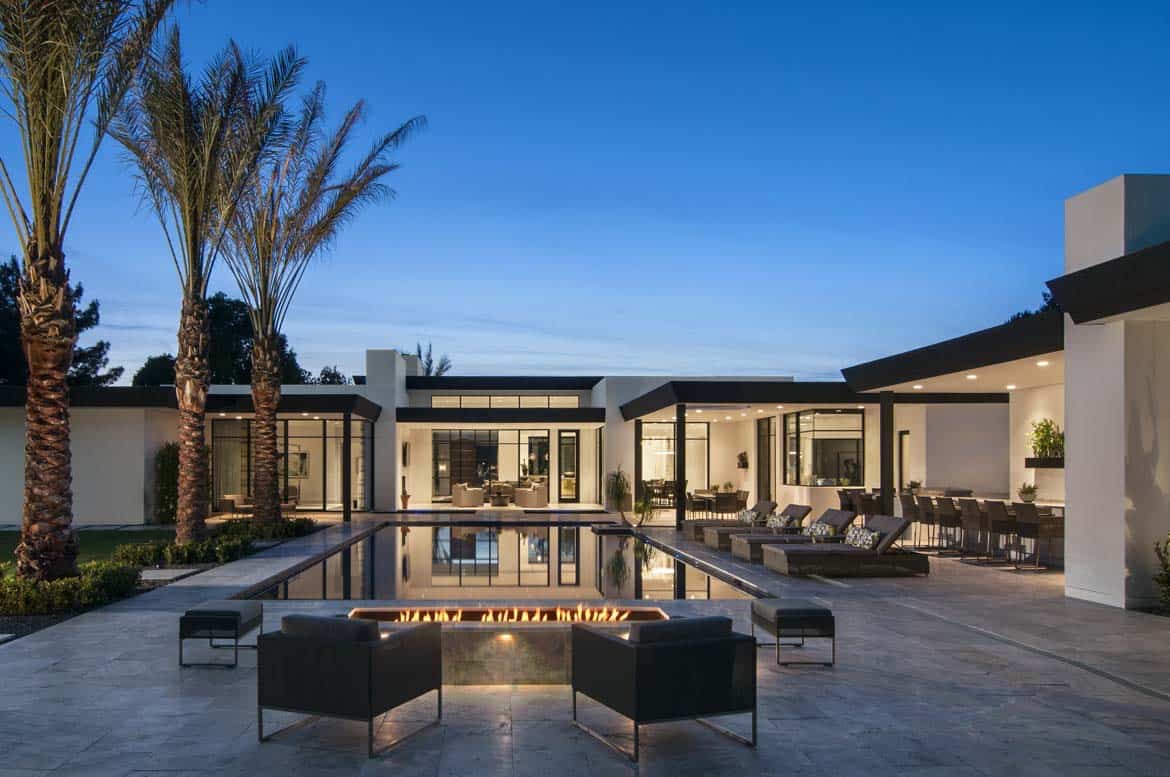 Source: One Kind Design
A timeless feature for warmer climates and luxury properties alike, pool court yards are often designed as the centerpiece of the rear exterior and landscape design. Complete the look with resort style amenities that bring the feel of an exotic get away to your back yard. Chaise lounges, covered pergolas with day beds, lounge areas with patio furniture and many other options to compliment this theme.
Water Features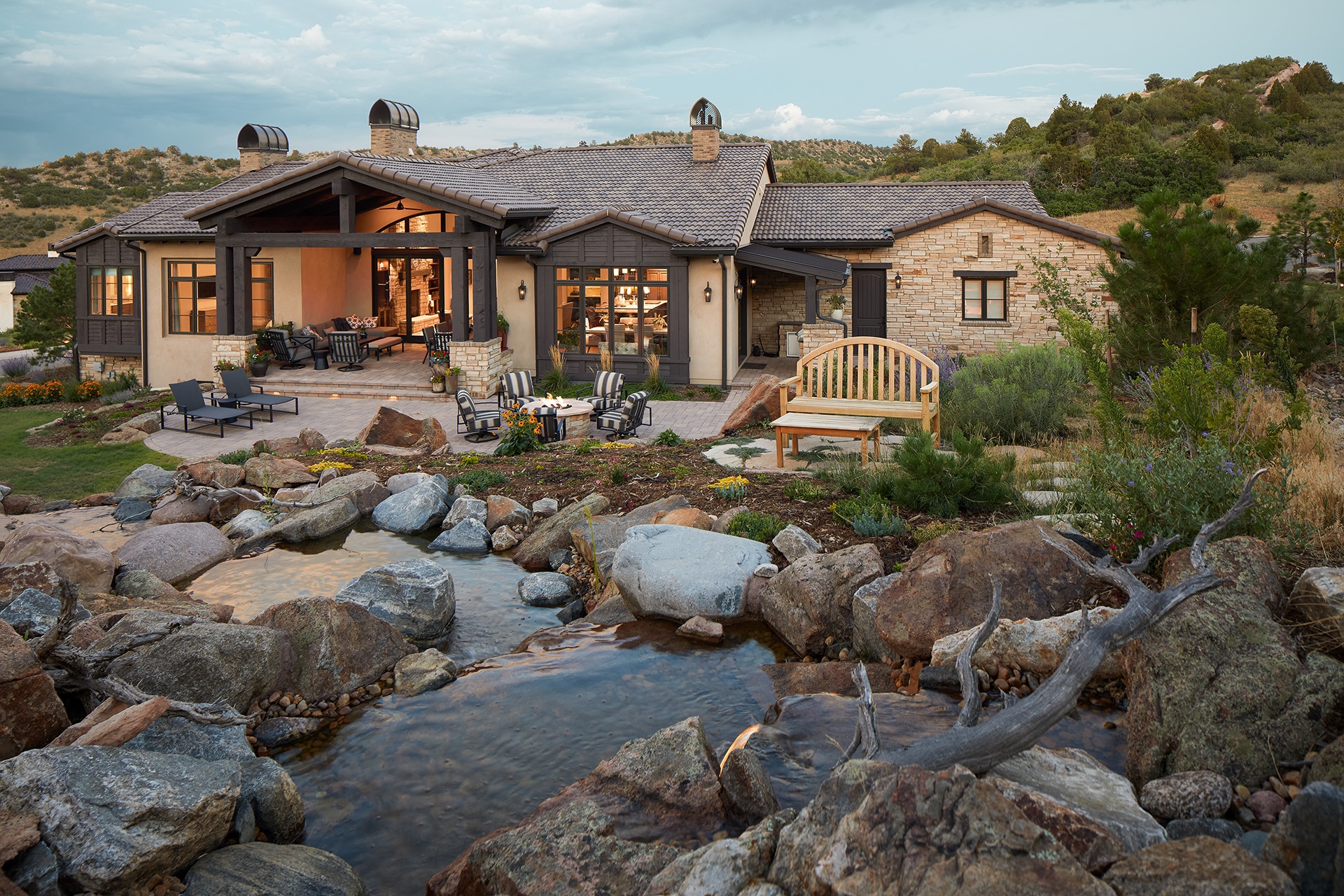 Source: Thomas Sattler Homes
Weather a tasteful coy pond, a wet wall waterfall, a decorative fountain or a babbling brook, the ambient sound of flowing water transports us to bliss. Water features are often aesthetic as well, enhanced with lighting options and integrated into other design features. They can also be an effective solution to some noise pollution, like the echo of nearby traffic.
Outdoor Shower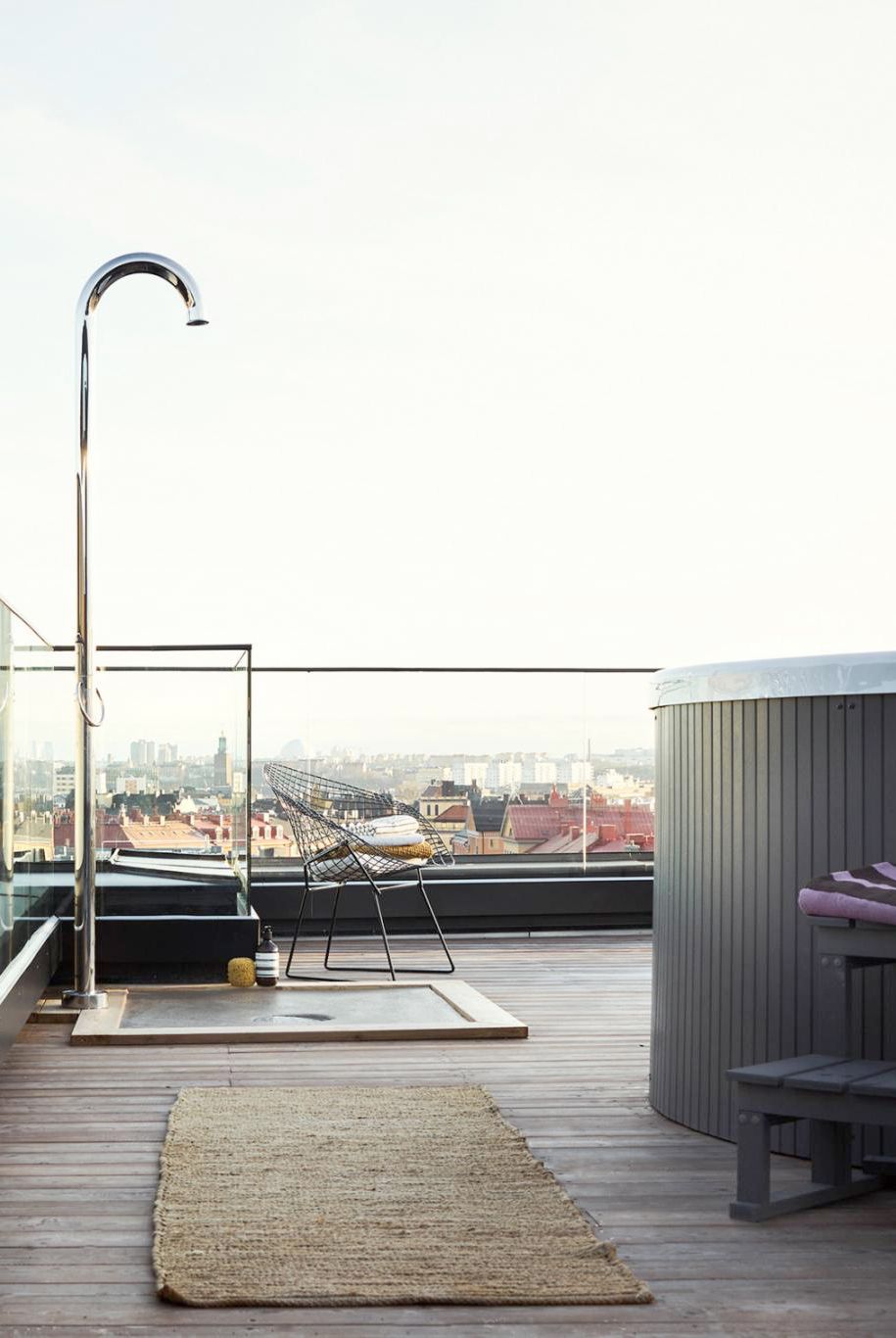 Source: House Beautiful
Usually located nearby a pool or jacuzzi, outdoor showers will significantly help in maintaining these amenities by removing body oils and sunscreens that disrupt the ph balance and can clog filters with film. Also, a refreshing feature after a session in the sauna or from sun bathing on a hot day.
Pergola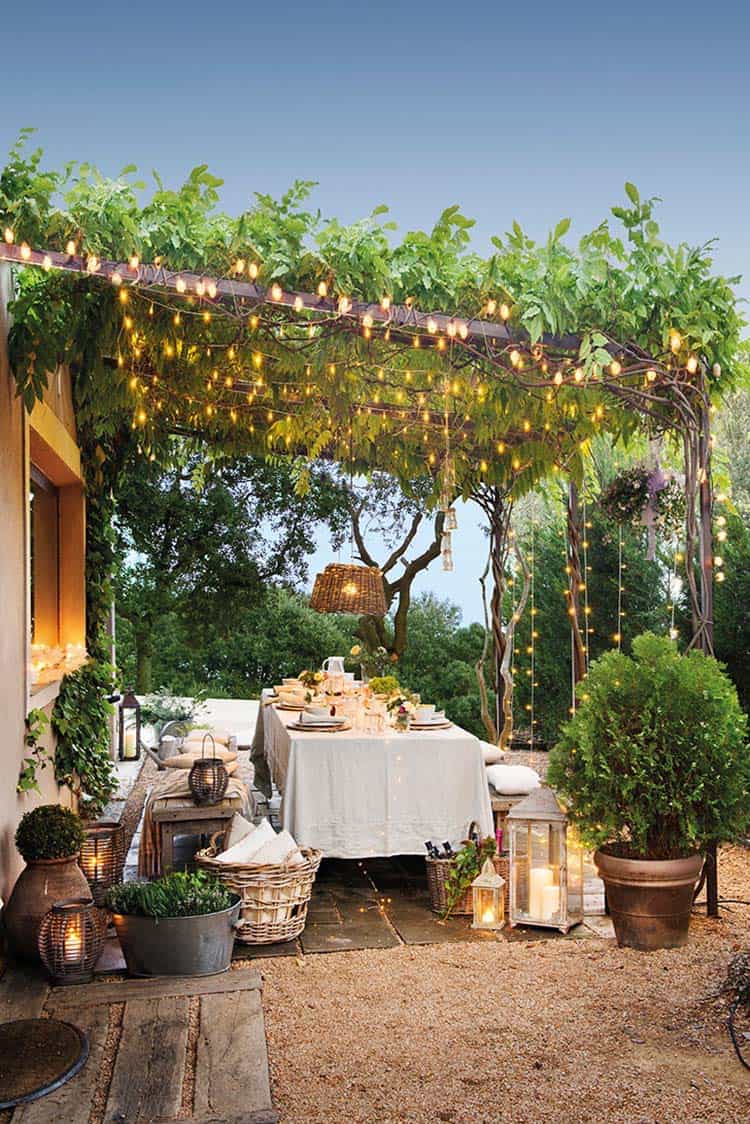 Source: House Beautiful
A timeless feature that brings elegance and comfort to any outdoor space. Pergolas can be free standing or attached to a structure. Oftentimes integrated with foliage like grape vines, or decorated with linens for shade and privacy. A comfy day bed is a nice touch. Also perfect for a tranquil massage space, draped in hammocks.
Hammock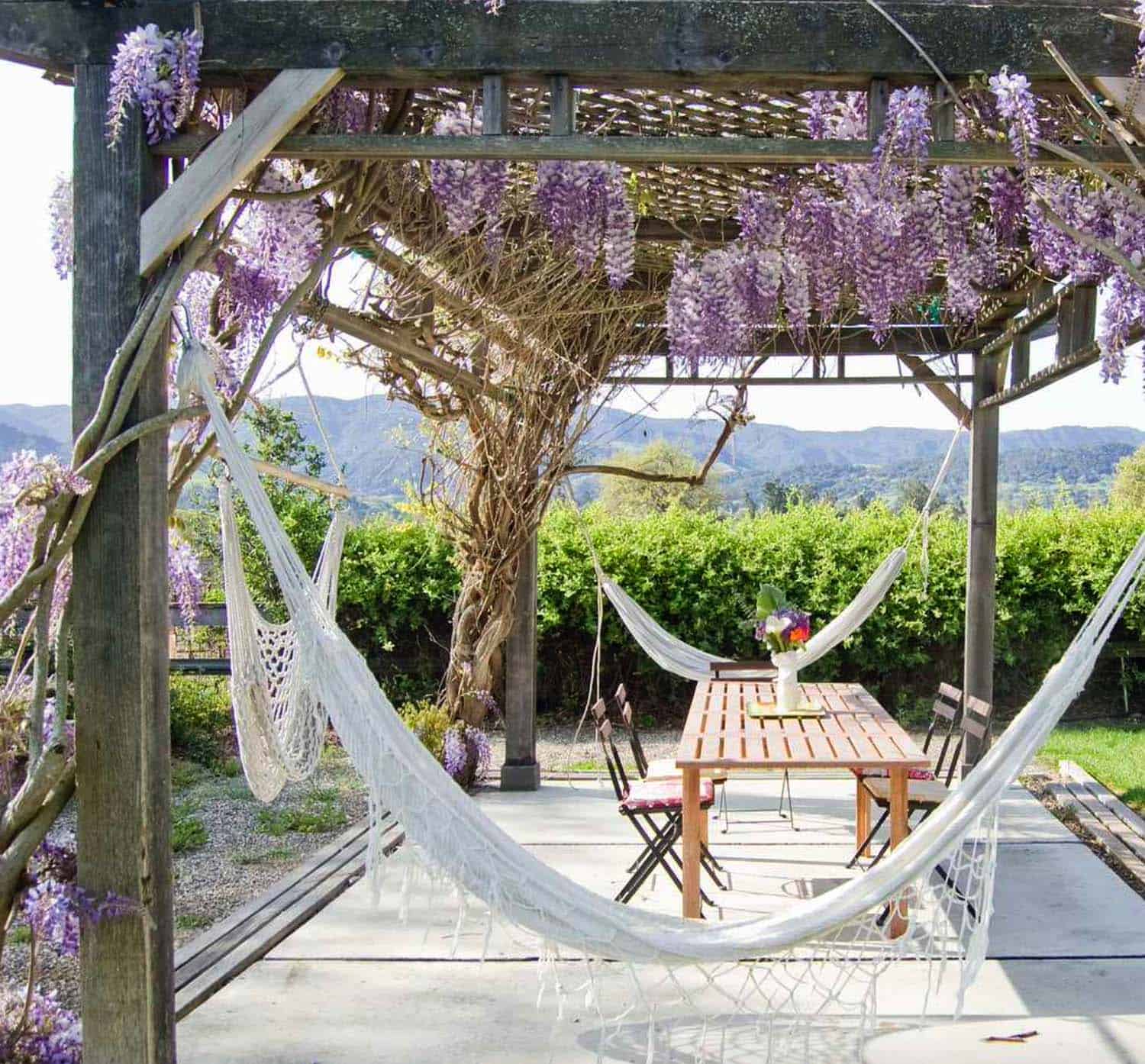 Source: One Kind Design
Get off your feet and suspend from the suspense of the week. Hammocks are making a comeback as a simple option to soothe. Hang under a covered porch, from a scenic tree or a rustic pergola. An inviting addition to your back-yard retreat.
Porch & Sofa Swing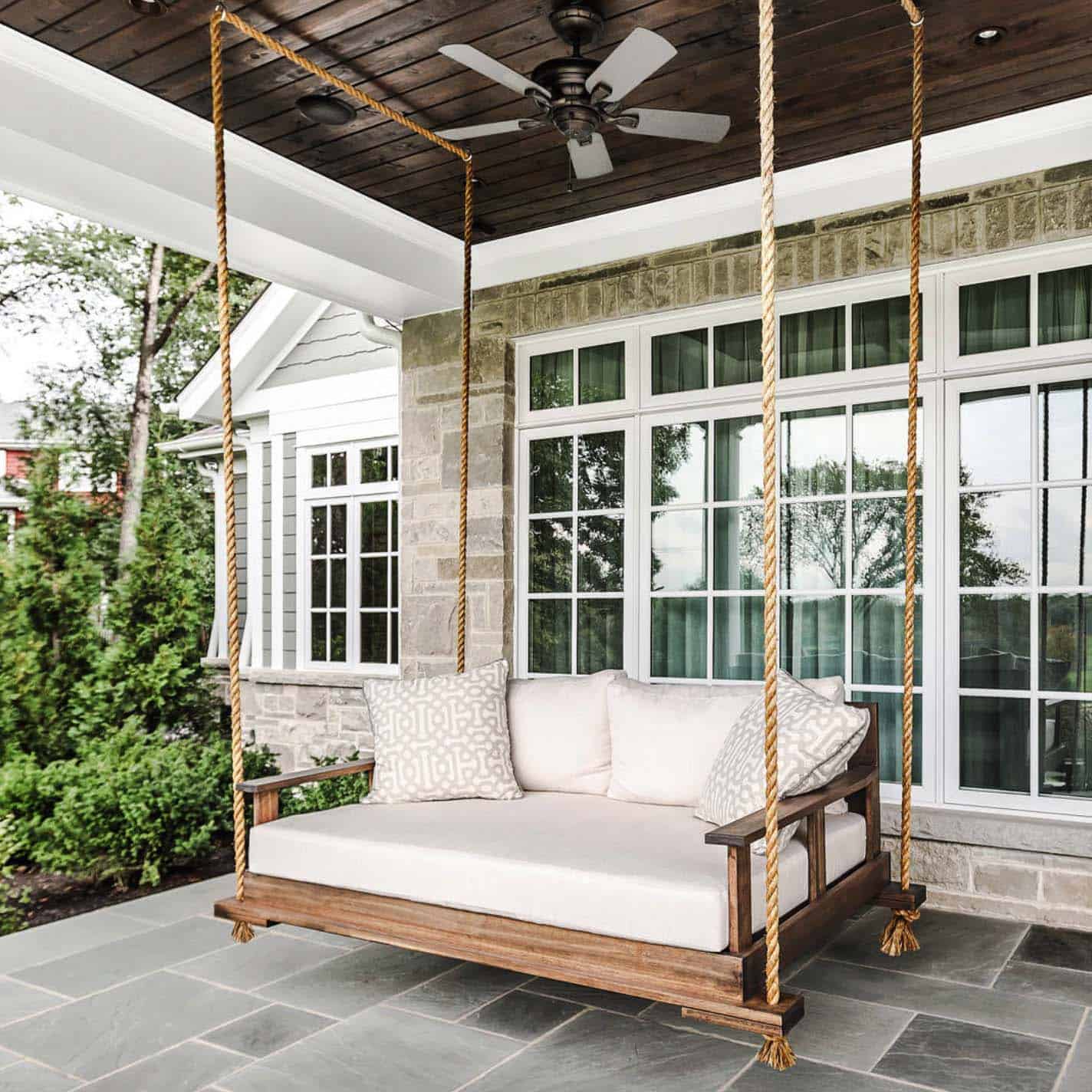 Source: House Beautiful
Upgrade from the humble hammock to a couple's themed swing. A unique twist inspired by southern comfort, sink into the cushions and feel the breeze as you gently swing from your covered patio. Also, popular as single seat porch swings and benches.
Platform Deck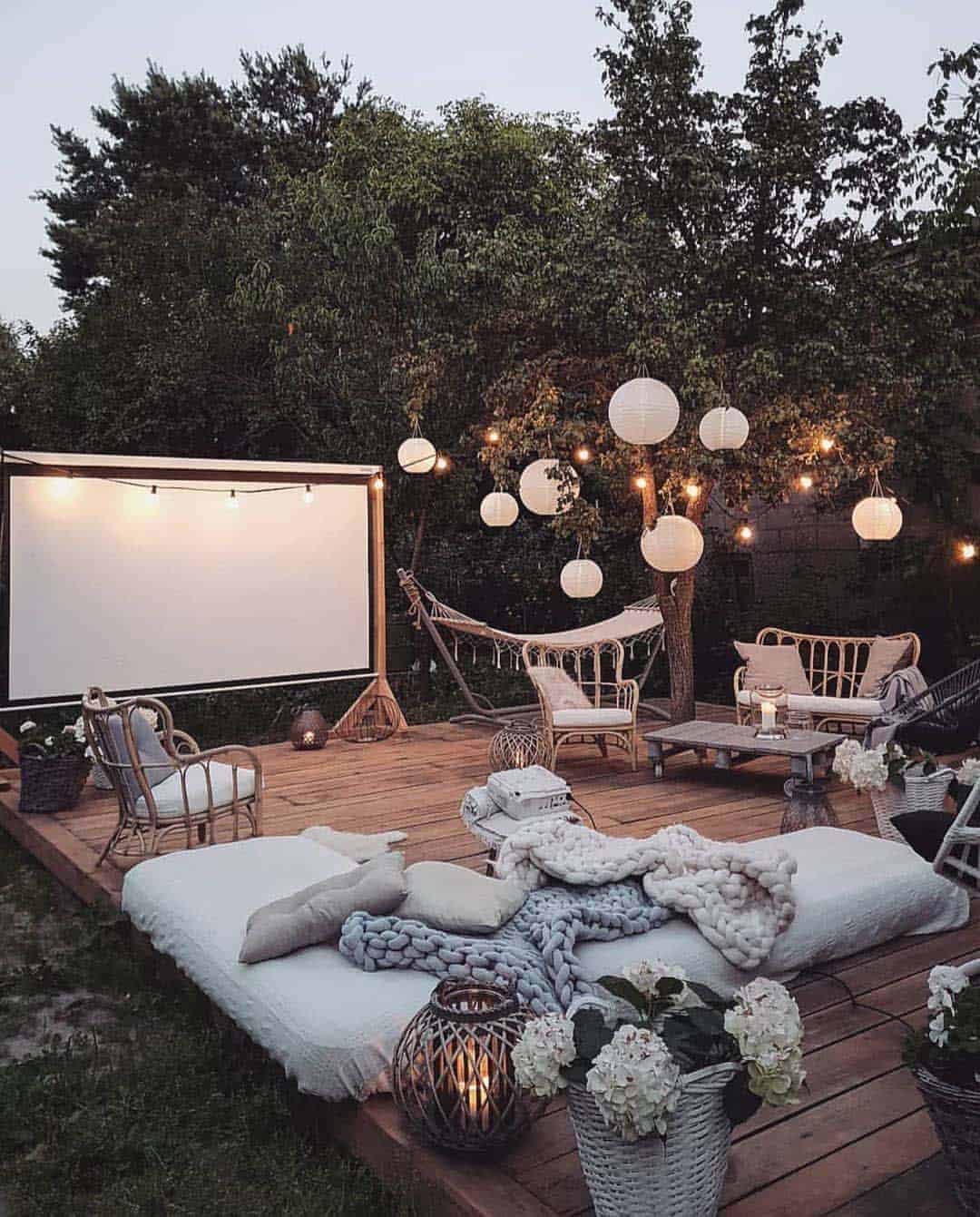 Source: One Kind Design
A platform deck is more of an island located away from the home instead of attached like traditional decks. A fun and exotic element to compliment various activities – a private music performance, an intimate movie night screening, picnic-like dining or simply lounging in the sun. From day beds, comfy benches, lounges and hammocks, there are many ways to enjoy this a-typical deck concept.
Raised Gardens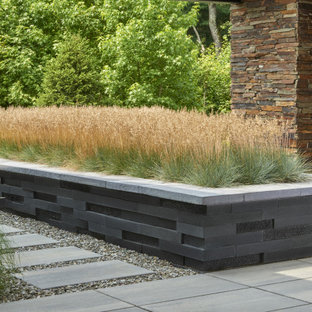 Source: Houzz
For the practical homeowner with a green thumb to the "set it and forget it" type that prefers low-to-no maintenance, raised gardens are again trending strong. Often incorporated into the landscape design, raised gardens are a tasteful compliment to hardscapes and lush yards. Whether showcasing the beauty of your favorite flower varieties or culturing an assortment of herbs and spices, these gardens are raised on wood frame
To Sum It Up
Many outdoor spaces have become extensions of the home rather than an afterthought. The overarching idea behind outdoor living from a design standpoint is to embrace the natural world, rather than fighting against it. In the process of doing so, builders and architects are able to improve the aesthetic quality of a home, and its livability. Consider these inspirations for your next remodel project or new home build design.
Found the perfect lot? Already own land? Call us today to schedule your free feasibility estimate! Know your total project cost before you commit to any decisions. We pride ourselves on a customer-oriented experience, always putting your needs first. You can reach the Thomas Sattler Homes Sales Team at <a href="tel:7204493562″>Call (720)449-3562</a> or online at ThomasSattlerHomes.com.